The Great GQ Pants-Off
GQ.com
Check out Hawaii Five-O's Daniel Dae Kim in this GQ photoshoot.
This March we announced the Best New Designers in America and asked each of the six winners to redesign a pair of Dockers khakis. Here, Daniel Dae Kim of Hawaii Five-0 wears the pants.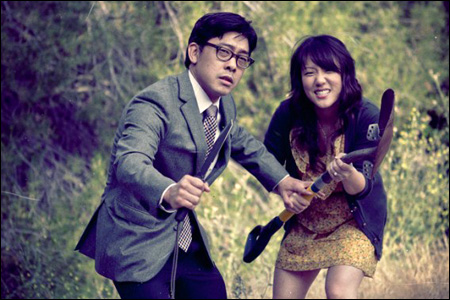 the zombie engagement photos… set to music!
angryasianman
By now, you've heard of Ben and Juliana, the badass couple facing off against a zombie in those awesome engagement photos that went viral last week. But if you can't get enough of them, check out this cool video by our composer pal George Shaw, who actually wrote a score and set the photos to music:
Check out the iAmKoreAm.com story about the zombie engagement photos and interview with Juliana!
Asian Americans face new stereotype in ads
Washington Post
Here is an interesting piece on Asian Americans in TV commercials that points out that Asians are often cast as tech support-types with technological know-how.
'Walking Dead': Four New Clips Feast On Your Brains
MTV.com
At a scant 11 seconds each, the clips themselves don't show, tell or even imply much new information about the season, but they do feature pretty much the most important of the show's assets: Realistic-looking zombies and stark, abject terror. Featuring returning castmembers like Andrew Lincoln, Steven Yeun, Laurie Holden and others, the teasers show off the bleak, zombie-infested world established in the series' first six-episode season.
Producer imbues Korean color to math animation
Korea Times
"Team Umizoomi" is a popular animated show for preschoolers airing on [Nick Jr.], solving everyday problems using math. Milly, her brother Geo and robot friend Bot work in a team, travelling in Umi Car to settle such daily problems as fixing a watering can.

The animation has a hint of Korean culture — the characters fly kites and the patterns on Milly and Geo's clothes and of the buildings come from traditional Korean designs. Soo Kim, producer and design director of the show, has contributed to its unique atmosphere. "The characters have simple black eyes, just like Koreans," Kim said in a telephone interview with The Korea Times.

Born in Korea, Kim immigrated to the United States when she was a child. She majored in pre-medical studies as most Korean-American children do.
Check out our April 2010 feature story on Kim and Umizoomi.
USC's Dornsife College introduces new minor in Korean Studies
The Daily Trojan
Beginning this semester, USC is offering a new minor in Korean Studies. The 20-unit minor will cover the political, economic, social and cultural changes in Korea. It will be interdisciplinary in nature, with course subjects spanning departments such as cinema, history, international relations, language and critical studies with a particular emphasis on Korea. There is no language requirement, but students are welcome to take Korean language courses to fulfill minor requirements.
Chiu and Kim are making a quick trip to Burning Man
San Francisco Bay Guardian
Board of Supervisors President David Chiu will take a day off from his busy mayoral campaign next week to attend Burning Man, which he'll fly into on a small private airplane along with Sup. Jane Kim and spend less than 24 hours on the ground.
Daniel Henney Says He's a 'Regular Korean Guy'
soompi.com
Daniel Henney is handsome.
Choi Sung Bong confesses that he tried to commit suicide
allkpop.com
The "Korean Susan Boyle" told CNN, "I felt like my life was meaningless so I attempted to commit suicide multiple times." He added, "I felt calm when I listened to music, music was my only friend when I was lonely."
In First, South Korea Votes on Social Policy
New York Times
Voters in Seoul went to the polls on Wednesday to do what South Koreans had never done before: cast ballots in a referendum on welfare policy — in this case, whether to provide all children with free lunches regardless of family income.

For weeks, placards supporting or opposing the proposal have greeted citizens throughout this metropolis of 10 million people. Although the referendum was confined to the capital, it assumed national proportions with all political parties joining the debate in a sign that, after decades of bickering over civil liberties, the economy and North Korea, they were now entering the largely untested field of social welfare.
[ad#graphic-square]