Mass shooting at spa shocks Ga. Korean community
AP via Boston.com
A man gunned down along with his wife and other family members at an Atlanta area spa he co-owned was a prominent member of Atlanta's community of roughly 100,000 Korean-Americans, according to friends left confused and concerned about what happened.
And although they have yet to identify the victims, friends of the spa co-owner were mourning the loss of him and others.

"He had great people skills," said Travis Kim, the president of the Korean-American Association of Greater Atlanta. "He had a calm personality, so in various situations, he would give me a lot of ideas. When I was going through some rather difficult situations, he was there to give me advice and I'm grateful."
North Korea and US talk for first time since Kim Jong-il's death
Christian Science Monitor
The US and North Korea entered a new round of exploratory talks Thursday in Beijing amid flickering hopes that they would lead at long last to six-party talks on North Korea's nuclear program.

As Glyn Davies, the new US envoy to North Korea, sat down with his highly experienced counterpart, Kim Kye-gwan, a basic question was how or whether North Korean policy has changed since the death in December of North Korea's longtime leader, Kim Jong-il.

Mr. Davies entered the talks saying it was a "positive sign" and "a good thing" that North Korea wanted the talks so soon after the transition from Kim Jong-il to his son, Kim Jong-un.
Kogi BBQ Founder Roy Choi to Pen Memoir about L.A. Food
Hollywood Reporter
Roy Choi, the co-founder of L.A.'s popular Kogi BBQ trucks has signed to write Spaghetti Junction: Riding Shotgun with an L.A. Chef. The book will be one of the first three titles released on Anthony Bourdain's new imprint at Ecco Books. Publication is scheduled for 2013.
American Idol's Heejun Han: 5 Things You Don't Know About the Top 24 Singer
US Weekly
He first wowed the American Idol judges with Michael Bolton's "How Am I Supposed to Live Without You" in Pittsburgh, and now Korean American contestant Heejun Han will compete for viewer votes as part of Idol's coveted top 24.

Here, Us Weekly uncovers five fun facts about the 22-year-old breakout star.

1. He's singing for the kids! Working with children who have special needs, New York City-based Han says his young charges inspired him to audition. "I want to prove to them that if you really, really want something and believe in it, you can be something," he has said.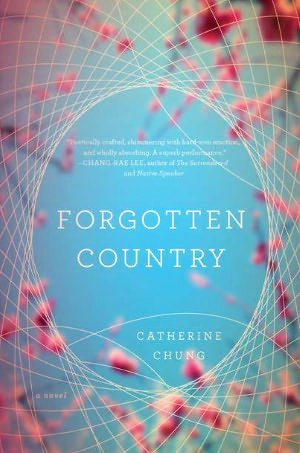 Book Talk: A tale of love and loss, sisters and secrets
Reuters
Korean-American Janie's family has lost a daughter in each generation, her grandmother says. So when her younger sister Hannah suddenly vanishes, Janie sets out to track her down through a labyrinth of family secrets and difficult history.

"Forgotten Country," Catherine Chung's debut novel, weaves Korean folklore and a host of linked and opposing pairs — Korea and the United States, North and South Korea, American-born children and their immigrant parents, two very different sisters — into a spare, haunting tale of loss, yearning and discovery.

Chung spoke with Reuters about writing, how her university mathematics major may have influenced her work, and her book, which goes on sale March 1 and has been praised by the likes of award-winning author Chang-rae Lee.
Another Korea Wave: New Books in U.S.
Wall Street Journal
But Korea is getting quite a bit of attention in the U.S. in a different medium – books.

Three important and substantively different books about the Korean peninsula are landing in American (and European, and some Asian) bookstores at nearly the same time – a trendlet, at least, if not a "wave."

The book getting the most attention at the moment is "The Orphan Master's Son" by Adam Johnson, a fiction writer and creative writing teacher at Stanford. It's on prominent display in many U.S. book stores this month and has puzzled and delighted readers and reviewers with a mix of narrative styles and timeframes as it tells a betrayal tale set in North Korea.
Seoul Food: Treating Your Idol to Lunch Is the True Test of Fandom
Wall Street Journal
Fans of pop stars send their idols all sorts of crazy stuff. In South Korea, the true measure of a fan's devotion is sending lunch to the stars.

On a recent Saturday here in Seoul, members of A Pink, a seven-member girl group, worked their way through beautifully crafted lunch boxes featuring egg salad with tomatoes, basil and toasted breadcrumbs, rice wrapped in seasoned lettuce, and beef-and-vegetable-skewers, all paid for by a fan.

"We enjoyed it so much and we were so moved by all the efforts that must've been put into these lunches," said Jung Eun-ji, a 17-year-old member of the group, one of the newest on the Korean pop scene. "There were even our pictures decorated on the outside of the lunch boxes."
Korean Police Flinging Angry Birds at School Violence
Kotaku
Yesterday, Feb. 21, the Korean National Police Agency and Rovio Entertainment announced the use of the Angry Birds franchise as an ambassador in the campaign to prevent school violence in Korea. The police are hoping to take advantage of the familiarity that young students have of the Angry Birds imagery, which will be used at prevention and public relation centers.
The Korean godfather of charcoal-roasted coffee
CNNGo
Meet the man exporting his aromatic beans from Heyri Art Village to all over the world